Mobile & Software Solutions

for
Hospitals & Enterprise
Mobile & Software Solutions Revolutionzing Best Practices in Healthcare Delivery in the Home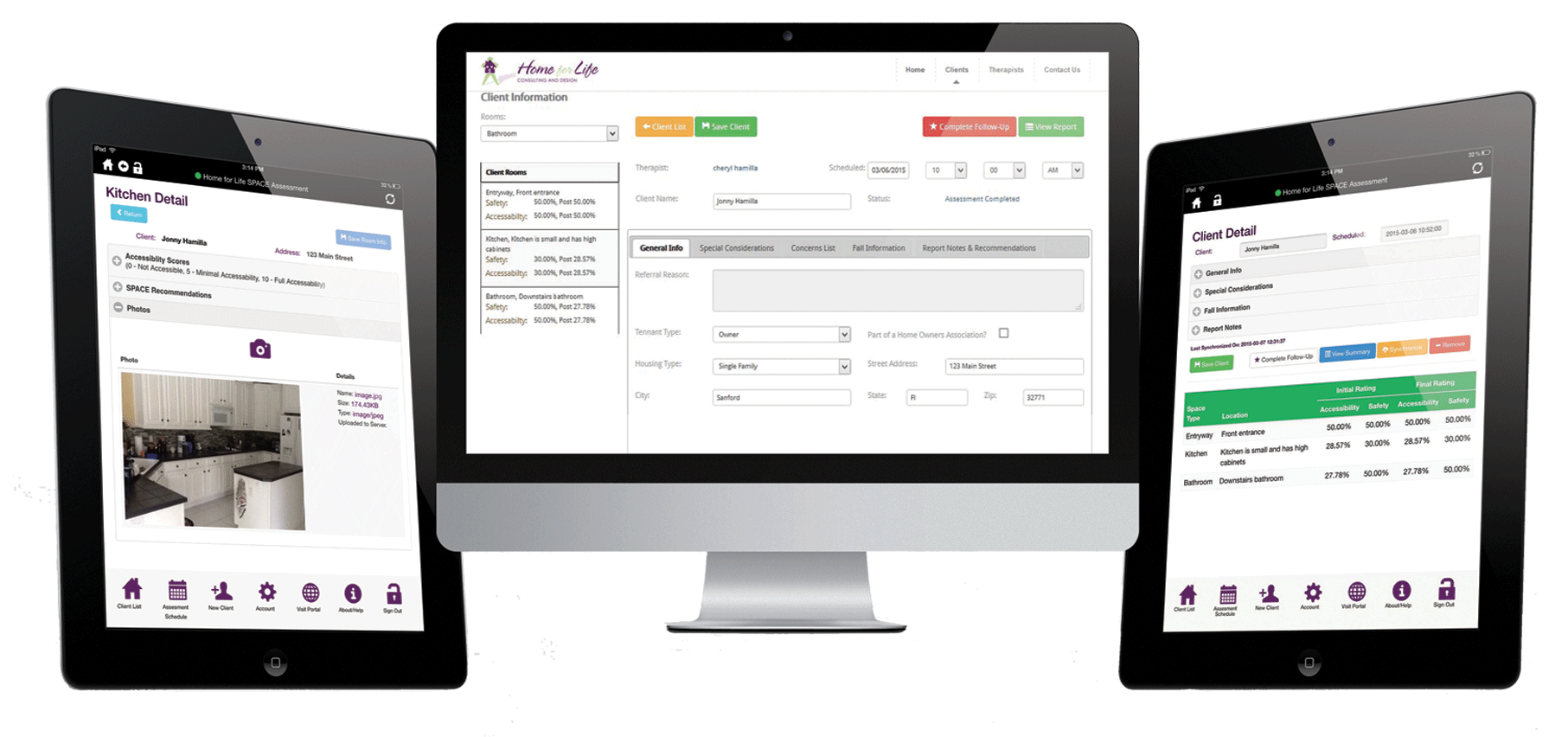 Home Assessment Solution - Brochure & Screenshots
Home for Life Design has merged the expertise and best practices of therapy practitioners with mobile and software technology to deliver first-to-market solutions to:
Reduce Readmission Rates

Mobilize Home Health Workforces

Increase Successful Patient Outcomes

Eliminate Paper & Tedious Data Entry

Generate Reports & Data Metrics

Store Photos & Video of Patient Environments

Schedule Patient Appointments and Monitor Assignments

Access Product Recommendations & Solutions for Healthy Homes
Our mobile and software solutions provide hospitals, therapy orgs, rehab facilities, and home health agencies with a mobile platform to conduct ongoing patient home assessments and streamline data into a much-needed centralized cloud reporting structure. This solution supports organizations consisting of larger work forces with wider administrative operations.
Conduct Patient In-Home
Assessments on
Mobile Devices
Capture Patient Environments in the Field
Increase Successful Patient Outcomes
Reduce Re-Admission Rates
* Built-In Home Assessment developed by expert Occupational Therapists & Aging-In-Place Professionals incoporating the Best Practices in OT & PEO Model Services.
-Includes-
Web Management Portal
Centralized Reporting
Workforce Management
Track Outcomes
Scheduling Tool
Healthcare Agency Dashboard
- Patient & Client Data
- Home Environment Data
- Schedule Patient Assessments
- Track Patient Outcomes
Solution Impact to Healthcare Agencies:
Eliminate Paper & Tedious Data Entry
Reduce Patient Re-admission Rates
Conduct Patient Home Assessments in the Field
Capture Person Environments with Mobile Video & Pictures
Gain Access to OT Recommendations for Aging in Place
Create, Send, & Export Patient Summary Reports
Centralize Patient Reporting and Assessment Data